Catholic High School Scholarships
Funding Catholic High School Education for Ohio Students
The Ohio Charity Foundation, Inc. is pleased to announce that, for the 2023-2024 school year, numerous $1,000 scholarships will once again be made available for Ohio Catholic students (grades nine through twelve) attending Catholic High Schools in Ohio.  This is the twenty-eigth consecutive year that the Knights of Columbus Scholarships have been awarded to our outstanding Catholic High School students.  More than $853,475 has been awarded during that period.
The requirements that will be considered for this scholarship are the student's and families financial need, a Grade Point Average of 2.5 or higher, academic awards, community and/or parish involvement, and extracurricular activities.  Preference may be given to students who are sons or daughters of a Knight of Columbus member in good standing; or a son or daughter of a deceased member.  We have a particular desire to help students, who may be considering a religious vocation, stay in a Catholic High School to foster and encourage that calling.
No more than one Foundation scholarship per Catholic High School will be awarded.  Scholarships from other donations and private sources may also be made available.
Did a deserving student in your high school receive one?  Please encourage every student who fits the qualifications to apply for the Knights of Columbus Scholarship.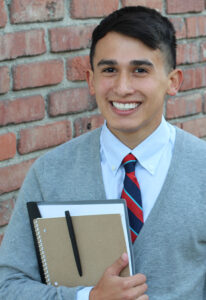 Must be a practicing Catholic.
Must be attending an Ohio Catholic High School.
No more than one winner per school.
Must include latest grade transcript.
Application Deadline – Last Friday in November.
Do not request a delivery receipt.
Early September – Applications, Rules, and Bulletin Board Announcements are emailed to all Ohio Catholic High School Principals and Guidance Counselors. They are also posted on the Ohio Knights of Columbus and Ohio Charity Foundation websites.
Late November – Scholarship submission deadline.
Mid December – Scholarship winners are notified by email and all schools are notified by email of all winners and the Winners' List is posted on the Ohio K of C and Ohio Charity Foundation websites.
Mid January through March – Checks are formally presented to the winners.
Financial need as presented by the student.
Scholastic achievement (GPA).
Scholastic honors and extra-curricular school activities.
Involvement in parish programs and activities.
Involvement in local community programs and activities.
Preference may be given to children of current Knights of Columbus in the event of any ties.
A $20,000 donation or bequest in a will, may provide an annual $1,000 scholarship to the school of your choice in your name.  If you are over 70½, you can make a tax-free contribution (Qualified Charitable Distribution) from an IRA. Contact Robert F. Collins, Jr., Scholarship Chair, at [email protected] for more information.
Further questions about the Scholarship Program can be directed to the Robert F. Collins, Jr. PSD, Scholarship Chair, at [email protected].